CenterLink, May 09,2023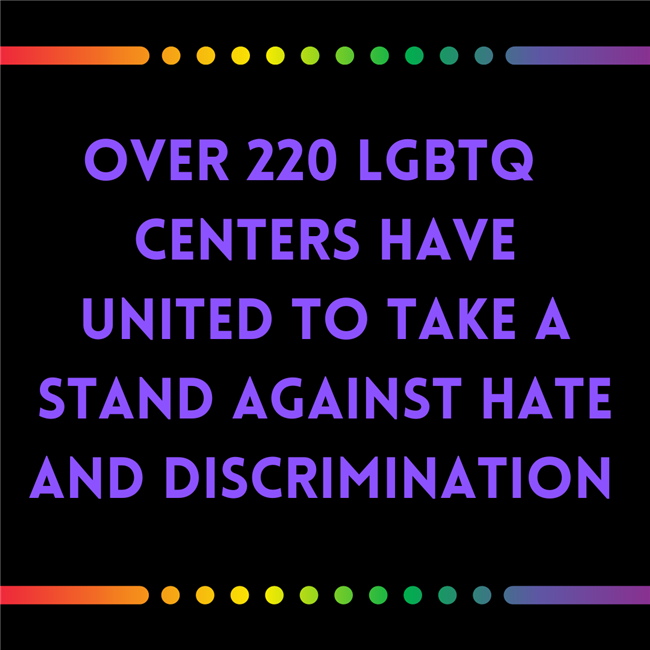 All News
For years, anti-LGBTQ bills have been on the ballot in statehouses around the country, but in 2023 the legislation - both in volume and appalling measures - has reached a fever pitch.
State lawmakers have introduced more anti-LGBTQ legislation this year than in the previous five years combined. With 470 anti-LGBTQ bills on state dockets, and 362 of them specifically attacking the transgender community, LGBTQ people are literally fighting for their lives.
These bills enforce discriminatory bathroom bans, censor drag shows or even make them illegal, stop transgender students from participating in sporting activities at school, force teachers to out students, eliminate school curriculum around LGBTQ and racial issues, attempt to allow states to put restrictions on same-sex marriages, erase LGBTQ people from schools and public life, and prevent transgender youth from accessing gender-affirming care or even force them to detransition. Kentucky, Arkansas, Tennessee, Mississippi, South Dakota, Utah, Iowa, Indiana and Georgia have already passed laws denying transgender youth the medically necessary care they need, and other states are likely to follow.
CenterLink's member centers have always and will continue to provide vital resources for their communities. LGBTQ centers remain a place where people can go for a wide range of critical, life-saving services. These centers collectively serve over 51,800 people each week, or nearly
2.7 million people per year. Nearly all LGBTQ centers engage in advocacy, public policy, and civic engagement across a wide variety of issues affecting the LGBTQ community. And despite almost three quarters of centers having experienced anti-LGBTQ threats or harassment over the past two years, the community of LGBTQ centers has remained stalwart in their missions.
CenterLink and its extensive network of member centers are stepping up to create a powerful, united front to push back against the wave of hateful legislation targeting the LGBTQ community. We are calling on people across the country to get involved:
We, the undersigned centers, denounce the tidal wave of anti-LGBTQ legislation that lawmakers are hurling at our community. We continue to stand united as safe havens for LGBTQ people and as pillars against hate and discrimination. We will not relent until these attacks stop and LGBTQ people are treated fairly and equally under the law.
List of signatories:
CenterLink: The Community of LGBTQ Centers
1ENC PRIDE
Ace and Aro Alliance of Central Ohio
Affirmations
Akron AIDS Collaborative
All Under One Roof LGBT Advocates of Southeastern Idaho
Attic Youth Center
BAGLY (Boston Alliance of LGBTQ+ Youth)
Bayard Rustin Center for Social Justice
Bergen County LGBTQ Alliance
Billy DeFrank LGBTQ+ Community Center
Borderland Rainbow Center
Bradbury-Sullivan LGBT Center
Brave Space Alliance
Brooklyn Community Pride Center
CAMP Rehoboth, Inc.
Capitol Area Reentry Program Inc.
Caribbean Equality Project
Caroline Pride, LLC
Center on Halsted
Central Valley Pride
Centre LGBT+
Centro Comunitario LGBTT de PR
Charlotte Trans Health
Coastal Bend Pride Center
CoastPride
Colors+
Community Awareness Network for a Drug-free Life and Environment
Compass LGBTQ Community Center
Covenant House of WV
Dallas Hope Charities
Delmarva Pride Center
Diversity Center of Oklahoma Inc
Diversity Collective Ventura County
Diversity Richmond
Eastern PA Trans Equity Project
Equality Community Center
Equitas Health
Fabulous Arts Foundation
FAIRNY (Fairness Alliance and Information Resources of New York Inc
Fem Alliance Uganda
Four Corners Rainbow Youth Center
GenderNexus
Grand Rapids Pride Center
Great Lakes Bay Pride
Guilford Green Foundation & LGBTQ Center
Harriet Hancock Center Foundation
Have A Gay Day
Health Equity Alliance for LGBTQ New Mexicans (HEAL Plus NM)
Henderson Equality Center
Hetrick-Martin Institute
High Impacto
Hot Springs Pride Alliance
Hudson Pride Center
Hugh Lane Wellness Foundation
I Am Human Foundation
Identity Health Clinic
inclusion tennessee
Indiana Youth Group (IYG)
Inside Out Youth Services
JASMYN, Inc.
Jim Toy Community Center
Kaleidoscope Youth Center
Knox Pride
Lancaster LGBTQ+ Coalition
Latino Equality Alliance
Lexington Pride Center
LGBT Center of Raleigh
LGBT Center of SE Wisconsin
LGBT Community Center of Greater Cleveland
LGBT Community Network
LGBT Detroit
LGBT Life Center
LGBT+ Center Orlando, Inc.
LGBT+ Family & Games
LGBTQ Center at UNF
LGBTQ Center OC
LGBTQ Center of the Cape Fear Coast
LGBTQ+ Center of Southern Nevada
LGBTQ+ Family Connections Centers Inc
LGBTQ+ Spectrum of Findlay
LGBTQ Support and Social Group USA
LIAM Foundation
Live Out Loud
Long Island LGBT Center
Los Angeles LGBT Center
Louisville Youth Group
LOVE ON A MISSION
LYRIC SF
Magic City Acceptance Center
Maven Youth
MiGen - Michigan LGBTQ+ Elders Network
Montgomery Pride United/ Bayard Rustin Community Center
Mountain Pride
Muncie OUTreach LGBTQ+ Center
Naper Pride Inc
Naples Pride
New York LGBT Network
North County LGBTQ Resource Center
North Shore Alliance of Gay, Lesbian, Bisexual, and Transgender Youth (NAGLY)
North Star LGBT Community Center
Oakland LGBTQ Community Center
Oasis Youth Center
Ogden Pride
Omaha ForUs
One In Long Beach, Inc. dba The LGBTQ Center Long Beach
One Iowa
one-n-ten
Open Table United Church of Christ
Our Family Coalition
Our Spot KC
Out Boulder County
Out in the Open
OUT Memphis
OUT MetroWest
Out On The Lakeshore
OutCenter Southwest Michigan
OutReach LGBTQ+ Community Center
Outright Vermont
Pacific Center for Human Growth
Pacific Pride Foundation
Phoenix Center
Pittsburgh Equality Center
Planned Parenthood Keystone
Positive Images LGBTQIA+ Center
Positive Women's Network Alabama
Power Safe Place Resource Center of Virginia
Pride Center of Staten Island
Pride Center of Terre Haute Inc.
Pride Center San Antonio
Pride Center West Texas
Pride Community and Education Center of the Tricities
Pride Community Center of North Central Florida
Pride Community Center, Inc (Brazos Valley, Texas)
Pride Link
Pridelines
Prism Counseling & Community Services
PRISM FL, Inc
Prism United
Project Pride SRQ
PWN Greater Houston
Q Center
Quad Citians Affirming Diversity (QCAD)
Queens LGBT Center
Queer Asterisk
Queer Works
Queermunity Collaborative
QUEERSPACE collective
Rainbow Community Center of Contra Costa County
Rainbow Connections ATX, part of Family Eldercare
Rainbow Families DC
Rainbow Labs
Rainbow Pride Youth Aaliance
Rainbow Rose Center
Resource Center
Roanoke Diversity Center
Rockland County Pride Center
Sacramento LGBT Community Center
SAGE-Long Island
Sam & Devorah Foundation for Trans Youth
San Diego Pride
San Gabriel Valley LGBTQ+ Center
San Mateo County Pride Center
Seacoast Outright
Seattle's LGBTQ+ Center
SF LGBT Center
Shenandoah LGBTQ Center
Shoals Diversity Center
Side by Side
SMYAL
SOJOURN: Southern Jewish Resource Network for Gender and Sexual Diversity
South Bay LGBTQ Center
Spencer Pride, Inc.
St. Louis Queer+ Support Helpline
Stand with Trans
Stonewall Alliance of Chico
Stonewall Columbus, Inc
SunServe
Sussex Pride / TransLiance
Tasha's House
The Atlanta Pride Committee
The Center on Colfax, Denver, CO
The Center Project
The Center: 7 Rivers LGBTQ Connection
The Cortland LGBTQ Center
The Diversity Center of Santa Cruz County
The Equality Crew
The Fresno Spectrum Center
The Gala Pride and Diversity Center
The LGBT Center of Greater Reading
The LGBTQ Center (South Bend, IN)
The LGBTQ Community Center of the Desert
The LIAM Foundation
The LOFT LGBTQ+ Community Center
The New Haven Pride Center
The Pride Center at Equality Park
The Reunion Project
The SMART Ride
The Source LGBT+ Center
The Spahr Center
The Welcome Project PA / SAGA Community Center
Time Out Youth
Trans Families
Transformation Project
Transgender Awareness Alliance
Transgender Resource Center of New Mexico
Transgender Resource, Education and Enrichment Services-TREES, Inc.
Transinclusive Group
TransNewYork
Triangle Community Center
Uniting Pride of Champaign County
Unity House
Uplift Outreach Center
Uptown Gay and Lesbian Alliance (UGLA)
Us Giving Richmond Connections
Utah Pride Center
Washington County Gay Straight Alliance, Inc.
Waves Ahead Puerto Rico
We Are Family
Western Montana LGBTQ+ Community Center
William Way LGBT Community Center
Youth Oasis
Youth Outlook
Youth OUTright
Youth Pride, Inc.
Zebra Youth