CenterLink, June 15,2023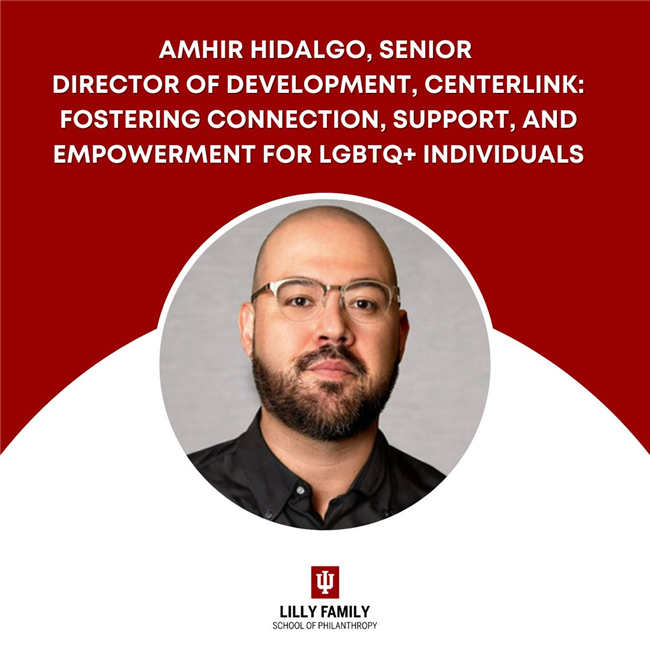 All News
Amhir Hidalgo, Senior Director of Development, CenterLink: Fostering connection, support, and empowerment for LGBTQ+ individuals
Hidalgo recently served on the advisory council for the Indiana University Lilly Family School of Philanthropy at IUPUI's LGBTQ+ Index, which tracks the landscape of charitable organizations in the U.S. serving the LGBTQ+ community. The 2023 report found that 2,773 LGBTQ+ organizations received a total of $557.84 million in 2019, or just 0.13 percent of total U.S. charitable giving.
PND asked Hidalgo about the report's findings, factors behind the recent increase in philanthropic support for LGBTQ+ organizations, the challenges LGBTQ community centers are facing in 2023, and opportunities for engagement on the part of foundations.
Philanthropy News Digest: According to the LGBTQ+ Index 2023 report, for which you served on the advisory council, LGBTQ+ nonprofits, which make up 0.2 percent of all U.S. charitable organizations, received just 0.13 percent of overall charitable giving. Did that come as a surprise to you? Why or why Not?
Amhir Hidalgo: To be honest, I was not entirely surprised by the findings that LGBTQ+ nonprofits received just 0.13 percent. While the numbers may be disheartening, they shed light on the significant under-resourcing of LGBTQ+ organizations in the U.S. I believe philanthropic efforts in the LGBTQ+ community have come a long way in the past few years, but there is still a lot of work ahead. We are still very grassroots in many ways and need to find methods to build more support from individual donors, corporate partners, and foundations. The plus side to the index is that we now can see a figure and make the case to funders. This index hopefully will help us bring new funders to support our cause, especially during a time we are seeing challenges to our rights.
For more: Amhir Hidalgo, Senior Director of Development, CenterLink: Fostering connection, support, and empowerment for LGBTQ+ individuals | Newsmakers | Features | PND (philanthropynewsdigest.org)