CenterLink, August 07,2018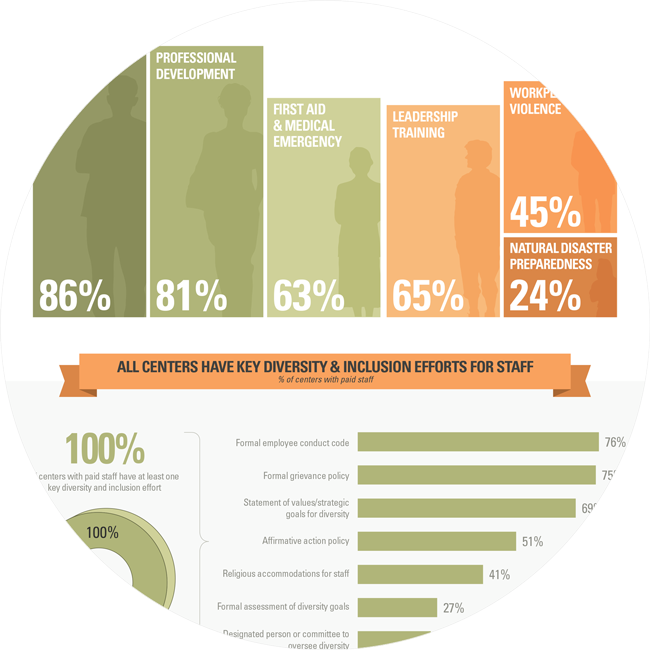 All News
AROUND THE COUNTRY, LGBT COMMUNITY CENTERS SERVE MORE THAN 40,000 PEOPLE EACH WEEK
New report shows how, despite lack of funding and paid staff, LGBT community centers provide critical services and advocacy for LGBT community members
Fort Lauderdale, FL - August 7, 2018 - For many lesbian, gay, bisexual, and transgender (LGBT) people, LGBT community centers are a critical and sometimes the only local source of targeted social, educational, and health services. According to a new report released today from MAP and CenterLink, The 2018 LGBT Community Center Survey Report: Assessing the Capacity and Programs of Lesbian, Gay, Bisexual, and Transgender Community Centers, these centers are often understaffed, underfunded, and under resourced, yet they serve more than 40,000 people each week and provide targeted referrals to nearly 5,500 people. Surveying 128 centers located in 40 states, the District of Columbia, and Puerto Rico, the sixth edition of the report provides a crucial snapshot of the centers that provide vital services, programs, and advocacy for LGBT people.
The report found that the 113 centers that reported 2017 revenue data have combined revenue of $226.7 million, with both large and small centers reporting an increase over the previous year. However, the report also found centers faced significant challenges, such as a lack of resources and paid staff—particularly among smaller centers.
"LGBT community centers are incredibly resilient. Not only do these centers provide critical direct services despite a daunting lack of resources, they are also active advocates on behalf of their members," said Naomi Goldberg, MAP Policy Director. "Investing in LGBT community centers—particularly smaller centers—is an effective way to support LGBT people across the United States." The report found that 93% of centers are actively working to advance policy change at federal, state, and local levels.
Key findings from the report include:
Participating LGBT centers serve 40,550 people in a typical week and refer nearly 5,550 individuals each week to other agencies for services and assistance.
The 113 centers that reported 2017 revenue data have combined revenue of $226.7 million. Small centers projected an 18% increase in expense budgets from 2017 to 2018, while large centers projected a 5% increase from 2017 to 2018.
Nearly half (47%) of all participating centers reported obtaining at least one government grant (local, state, or federal) of over $10,000 in 2017.
Participating centers employ nearly 2,000 paid staff and engage with more than 14,000 volunteers for nearly half a million volunteer hours annually.
Half of LGBT community centers remain thinly staffed: 25% have no paid staff and rely solely on volunteers, and 32% have between one and five paid staff. As expected, small centers with budgets of less than $150,000 are much more likely to have few or no paid staff; 56% of small centers have no paid staff, while three-quarters (76%) of centers with budgets over $150,000 have six or more paid staff.
More than three-quarters of centers (78%) that engage in policy-related activities work to advance policy at the local level, 67% at the state level, and 31% at the national level.
"Data can tell a unique story, and it can help strengthen our community's collective impact," said Lora Tucker, CEO of CenterLink. "My hope is that this 2018 Community Center Survey Report can make a difference as we work at the grassroots level to ensure that all LGBTQ people have the opportunity to live happy and healthy lives in communities that honor and support their full participation."
Given the critical role of LGBT community centers in areas of the country with few other resources for LGBT people, and the large gulf between large centers and small centers, the report finds that small centers, in particular, are in critical need of additional financial support. The report concludes with the recommendation that investing in these centers is a targeted and focused way to increase the infrastructure of the LGBT movement and the support for LGBT people living across the country.
The 2018 Community Center Survey is the sixth biennial survey of LGBT community centers across the United States. In March 2018, MAP and CenterLink sent an online survey to 219 community centers identified by CenterLink. To read the full report, visit https://www.lgbtcenters.org/Assets//Documents/CC-Surveys/community-center-2018-04-5.pdf.
About CenterLink & MAP
CenterLink develops strong, sustainable LGBT community centers and builds a thriving center network that creates healthy, vibrant communities. Founded in 1994, CenterLink plays an important role in addressing the challenges centers face by helping them to improve their organizational and service delivery capacity, access public resources, and engage their regional communities in the grassroots social justice movement. www.lgbtcenters.org.
Founded in 2006, the Movement Advancement Project (MAP) is an independent think tank that provides rigorous research, insight, and analysis that help speed equality for lesbian, gay, bisexual, and transgender (LGBT) people. Learn more at www.lgbtmap.org.
Media Contact:
Denise Spivak
Deputy Director
CenterLink
Phone: 954-765-6024
Email address: denise@lgbtcenters.org