Pride Center West Texas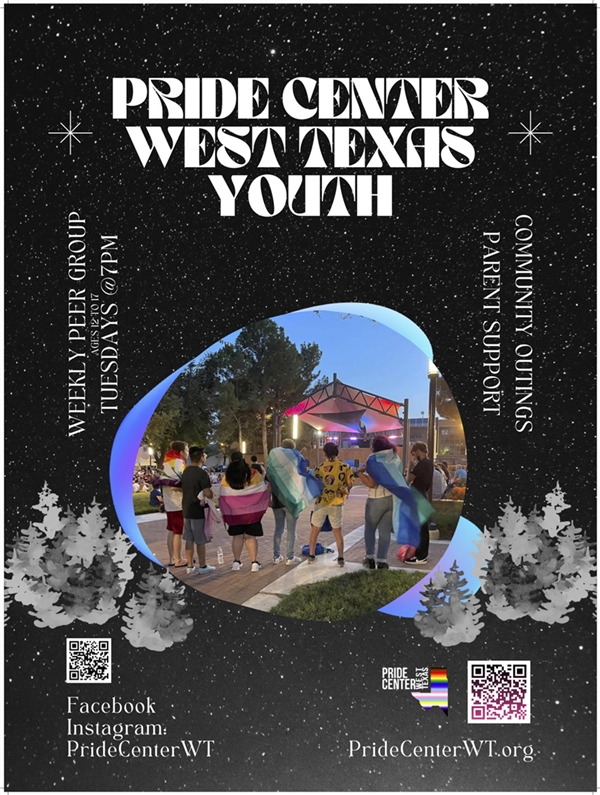 Address
4141 Tanglewood Ln
Odessa, Texas 79762
United States
Directions
Pride Center West Texas is a community center serving the entire Permian Basin from its location in east Odessa, Tx. The Center boasts main offices for administrative staff, the YAS! Space (Youth ActivitieS Space dedicated to youth aged 12-17), as well as a library, group room, internet access desk, and conference room available for use and booking by community members and groups of all ages.
Contacts
General Info Email: info@pridecenterwt.org
CEO: Bryan Wilson
Senior Leader: Amanda Provence
Additional Information
Year Founded: 2020

Phone Numbers
Main/Primary: 432-242-2023
Fax: (432) 999 - 7499
Operating Hours
Monday: ClosedTuesday: 12:00PM Noon to 6:00PMWednesday: 12:00PM Noon to 6:00PMThursday: 12:00PM Noon to 6:00PMFriday: 12:00PM Noon to 6:00PMSaturday: 12:00PM Noon to 6:00PMSunday: Closed
Services/Programs Offered Here
Adult/Parent/Caregiver
Mental Health
Resource and Referral Information
Social and Cultural Programs
Anti-Violence
Literature/Materials/Resources
Techinical Assistance/Training/Support
Arts/Culture
Art Gallery/Display Space
Book Clubs
Community Meeting Space
Film Festivals/Screenings or Discussions
Organizing Local Pride Celebrations
Religious Services/Spiritual Counseling
Civic Engagement
'Get Out The Vote' Drives
Voter Registration
Community Outreach/Education
General Public
HR Offices (Nonprofit, Corporate or Government)
Physical or Mental Health Providers
School Administrators and/or Teachers
Free LGBTQN+ Competent Counseling for Adults
Information/Education
Computer/Internet/Email Access
Computer/Internet/Email Training
In-House Library
Recreational Programs
Referrals to Local LGBT-Friendly Businesses
Legal
LGBT Friendly Legal Referrals
Mental Health
Couples Counseling
Family Counseling
Group Counseling
Individual Counseling
Peer Led Services and Groups
Professionally Facilitated Support Groups
Referral Services
Transgender Services & Groups
Physical Health
Discussion or Support Groups
Health Promotion and Education
LGBT Friendly Referrals
STD/HIV Outreach and Education
STD/HIV Prevention
Vaccine Clinics Hosted (2-3 Annually)
Youth
Community Outreach/Education
Drop-In Center
Gender Identity Services & Groups
Health & Wellness Education
Leadership Development & Life Skills
Mental Health
Peer to Peer Group
Recreational & Social Activities
Support
IMPORTANT NOTE: The information contained in this Directory is subject to change. We recommend that you contact a Center before visiting to confirm operating hours, locations, etc.